Product Description
OBL dosing pumps
OBL produces high quality dosing pumps and is a subsidiary of the American Idex Group.OBL dosing pumps are a brand apart in various product groups including OBL plunger dosing pumps, OBL directly driven membrane dosing pumps and OBL hydraulically driven membrane dosing pumps.
The OBL plunger dosing pumps are available in API 675. These OBL pumps are available for pressures of up to a maximum of 400 bar.
This series is highly robust in terms of construction and is therefore highly suited to continuous use.
OBL's directly driven membrane dosing pumps are available up to a maximum capacity of 520 litres per hour and a maximum pressure of 12 bar.
This series of pumps comes equipped with an anodised gearbox which makes these pumps resistant to corrosion and so they are highly suited to environments with a corrosive atmosphere.
The OBL hydraulically driven membrane dosing pumps come in a wide range of designs.The best of the bunch are the API 675 pumps as they are the front runners in terms of technology.
In addition to these OBL pumps reaching a maximum pressure of 250 bar and have a highly robust design, they also have a unique recirculation system for the barrier liquid. This system ensures the barrier liquid is released when under too much pressure, which means the pumps can operate against a closed press and that the barrier liquid automatically returns once the pressure in the discharge line drops once more. These OBL pumps are unique as in contrast to other brands, these pumps keep operating under a high vacuum.
Blackline Pro pump series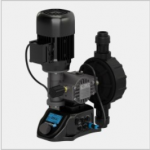 OBL PUMPS CATALOG
Characteristics
Dosing pumps with external control.
Max. capacity: 800 l/hr
Max. pressure: 100 bar
The Blackline Pro series is specially made for the new Blackline 2.0 dosing pumps.
The dosing pumps from the M and R series can be equipped with this new unit.
Characteristics:
– Variable orientation
– USB connection for configuration and diagnostics
– Level monitoring
– Succeeding counter
– Output 4 – 20 mA + relay
– Modbus
– Input 4 – 20 mA
– 2 Digital inputs for on / off and pulse control
Material
PP
PVDF
Stainless steel 316