Product Description
Centrifugal pumps (also known as rotary pumps, radial pumps or radial wheel pumps) are hydraulic continuous-flow machines.For decades now, Speck has been developing and manufacturing application-specific centrifugal pumps and setting new standards, especially with its innovative modular heat transfer pump system.
With a cutting-edge testing area for tests up to 750 m³/h and 400 m, Speck boasts an outstanding framework for research, development and series testing.
Areas of application
Particularly well suited for high flow rates at relatively low pressures or delivery pressures
Suitable for clear liquids with no abrasive contamination or solid content
The adjustment to the operating point takes place by changing the impeller diameter; higher delivery pressures or higher pressures are achieved with multi-stage designs.
Normal-priming, not suitable for the delivery of gas shares
Design
Centrifugal pumps have enclosed impellers with a cover plate, and both open impellers and back vanes for small pumps with an EC motor
Alongside single-stage pumps with a volute casing or inline casing, Speck also offers horizontal, multi-stage pumps with modular design.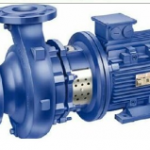 SPECK PUMPEN PUMP ( POMPA SPECK PUMPEN )
CENTRIFUGAL MULTI STAGE PUMP :
Merk : SPECK
Type : 4004
Cap. : 30 M3/ Hr
Head : 110 M
Power : 18,5 KW/ 25 HP/ 3 Phase/ 50 Hz/ 380 V/ 2950 Rpm
LIQUID RING VACUUM PUMP :
Merk : SPECK PUMPEN
Type : VU 300
LIQUID RING VACUUM PUMP :
Merk : SPECK PUMPEN
Type : VH 300
Cap. Min. : 150 M3/ Hr
Pressure Max. : 76 cm Hg
SELF PRIMING MULTI STAGE PUMP :
Merk : SPECK PUMPEN
Type : SK 3201 LGM 2260
Material : All Stainles Steel
Sealling : Mechanical Seal
Power : 1,5 KW / 380 V / 50 Hz / 3 Phase / 4 Pole / 1500 Rpm
C/W Motor Ex. Proof (Merk Euro Motori), Coupling, Base Plate
Delivery : Indent 2-3 Months
VACUUM PUMP :
Merk : SPECK PUMPEN
Type : VH 0060-55-30-001 / VH 60 GDRS -30
Power : 2.2 Kw / 380 V / 50 Hz / 3 Phase / 2 Pole / 2900 Rpm
C/W Motor Explotion Proof, Coupling, Base Plate
LIQUID RING VACUUM PUMP :
Merk : SPECK
Type : VH 350
Price : Unit ( Bare Pump Only )
LIQUID RING VACUUM PUMP :
Merk : SPECK PUMPEN
Type : VU 300
Price : /Unit ( Bare Pump Only )
LIQUID RING VACUUM PUMP :
Merk : SPECK PUMPEN
Type : VH 300
Cap. Min. : 150 M3/ Hr
Pressure Max. : 76 cm Hg
Price :/Unit ( Bare Pump Only )
CENTRIFUGAL MULTI STAGE PUMP :
Merk : SPECK
Type : 4004
Cap. : 30 M3/ Hr
Head : 110 M
Power : 18,5 KW/ 25 HP/ 3 Phase/ 50 Hz/ 380 V/ 2950 Rpm
Price :- /Unit C/W Motor, Coupling, Base Plate