Product Description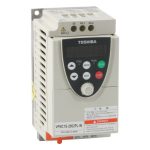 Toshiba VF-nC1 Nano – 2.2kW 230V 1ph to 3ph – AC Inverter Drive Speed Controller
This product is no longer in production. For a possible replacement see linked products below.
Toshiba Tosvert VFnC1 Inverter for 2.2kW (3HP) 230V 3 Ph motor in VxF control to 10A. Simple to set-up and converts single phase 230V input to three phase 230V for a standard AC Induction motor.
Size – 117mm Wide x 155mm Deep x 142mm high in IP20 case.
Overload – 150% x 60seconds.
Speed Control Range – 0/200Hz.
Braking – none.
Features – Front Mounted Potentiometer, 1 x Analogue Input, 1 x Analogue Output, 4 Digital Inputs, 1 Relay Contact set.
Programmable from built-in keypad.
EMC Filters to EN61800-3 to the 2nd Environment C3 (Industrial).
Input Current – Not Specified (30A circuit breaker).
Input Voltage – 200/240V single phase +-10% at 50/60Hz.
Wall mount in clean environment or cubicle mount.
Rated at 40C Ambient.
Ventilation space above and below – 50mm.
Ventilation space at sides – 50mm.
Heat Loss at max output – 126W.
Mounting onto screw fixings for rear mounting.
Full part number is – VFNC1S-2022PL-W
Download the Toshiba VFNc1 Manual from the link below:-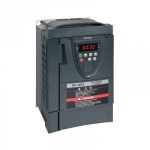 VFAS12015PLHN
Technical Specifications
| | |
| --- | --- |
| Brand | TOSHIBA |
| Horsepower Rating | 2 HP |
| Rated Voltage | 230 V |
| Series | AS1 |
| Output Voltage | 230 V |
| Product Condition | New |
| Enclosure Rating | UL Type 1 |
| Output Amperage Rating | 8 A |
| Phase Rating | 3 Phase Input – 3 Phase Output |
| Rated Amps | 8 A |
| Model | VFAS12015PLHN |
| HP Rating @ 100% OL | 2 HP |
| Amp Rating @ 100% OL | 8 A |